Environment & sustainability
For the sake of the environment...
Travel with a clear conscience! Those who take the bus are also doing something good for the environment, because traveling by bus is one of the most environmentally friendly ways to be mobile.
Compared to other means of transport, the bus is characterized by top values ​​in terms of emissions and consumption and thus has an extremely positive climate balance.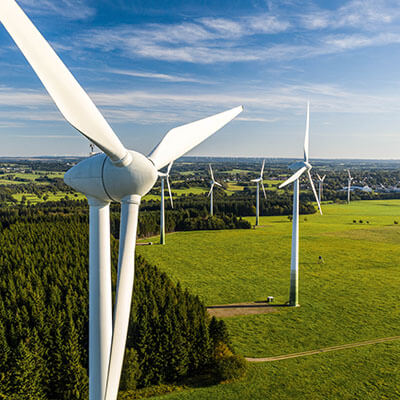 Bus travel means climate protection: With 40 grams of CO2 emissions per person and kilometer, the bus is the cleanest and most ecological means of road transport. The bus is thus 3.5 times more environmentally friendly than the car, which causes 147 grams of CO2 per person-kilometer.
Traveling by bus means conserving resources: The bus also occupies a top position when comparing primary energy consumption: With 0.006 liters of diesel per person and kilometer, it is well ahead of the train with 0.009 liters. A car needs 3 times as much with 0.018 liters.
Traveling by bus means reducing traffic: each individual bus transports an average of 45 people and replaces around 30 cars on the road. This not only ensures fewer emissions, but also freer transport routes in cities and municipalities and fewer traffic jams.
Thinking about tomorrow today
Environmentally friendly and state-of-the-art: That is the Blaguss philosophy. All coaches meet the highest ecological requirements of the "EURO 6 standard". These buses have reduced their CO2 emissions by 87% and NOx emissions by 97% since the 1990s.
Blaguss pays attention to constantly falling fuel consumption and increasing environmental quality on the road. Due to the constant purchase of the latest models, the Blaguss bus fleet has an average age of only 1.9 years. Blaguss coaches are therefore always state-of-the-art and are not only among the most modern and safest, but also among the most ecological buses in Europe!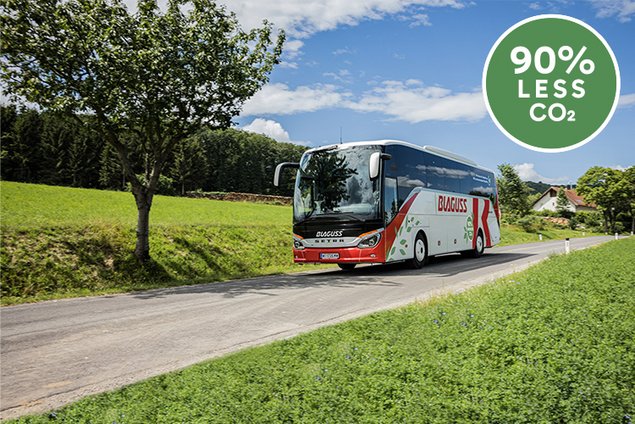 Travel fossil free with HVO100 and
save 90% CO2.

This biogenic, sustainable fuel brings us one step closer to achieving climate neutrality in 2035!
Learn more
Energy efficiency through "green" driving
In addition to the classic driving safety training, Blaguss drivers also regularly complete so-called "fuel-saving training", in which they are trained in an energy-efficient and resource-saving driving style. Consumption-optimized and predictive driving ensures an increasing environmental quality on the road and thus leaves a smaller ecological footprint.