BLAGUSS is more than just driving a bus: hop on and enjoy first-class service and a range of diverse services.
Extensive hygiene measures ensure your protection during this challenging time – so that you feel comfortable on board and travel safely with BLAGUSS.
The best and most modern coach does not travel without its driver. The mission of our crew members is to get everyone on board safely to their destination.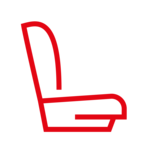 Quality and safety in passenger transport are our top priority. That's why we attach particular importance to our drivers and their vehicles: so that you can travel with us safely.