Traveling together means looking out for one another and being a little considerate of one another – so that everyone on board feels comfortable and has carefree travel moments.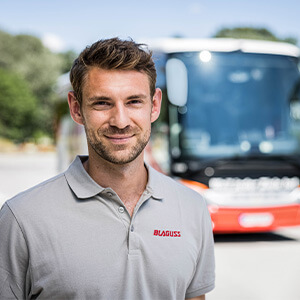 YOUR BUS DRIVER
Our bus drivers are well-trained travel managers, have a lot of experience and are continuously trained by us through training and further education programs, such as: courses in fuel-efficient driving, driver safety training, stress management, emergency training, as well as communication and language training. Our bus drivers are subject to the strictest rest regulations, compliance with the legally prescribed driving and rest times is closely monitored by fleet management and unconditionally observed for your safety.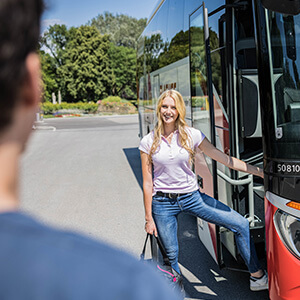 GETTING IN & OUT
For your own safety, please pay attention to step heights, sidewalk edges, passing traffic and especially cyclists and e-scooters when boarding and alighting. After boarding, take a seat and stow your hand luggage under your seat or in the hand luggage compartment.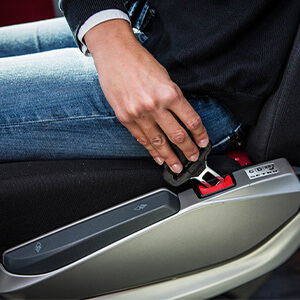 SEAT BELTS
All coaches are equipped with a waist belt. Please observe the statutory obligation to wear seat belts in the coach and remain buckled for the entire journey.
LOUNGER SEATS & BACKRESTS
The backrest of your seat can be adjusted backwards, the aisle seat can also be adjusted sideways. Before you make yourself comfortable in a reclining seat, be sure to politely check with the person sitting next to you, so that no drinks tumble down.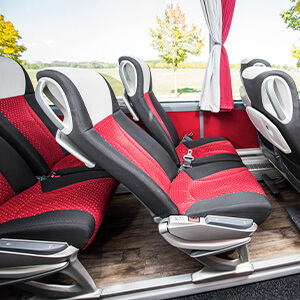 BREAKS, SNACKS & DRINKS
Your driver will take sufficient breaks during the course of the trip, in consultation with the tour guide and the statutory driving and rest times. The passengers also have the opportunity to stretch their legs. The equipment with food and chilled drinks is possible after prior consultation with our customer service or the driver for the duration of the trip.
HYGIENE
Our coaches are thoroughly cleaned after each trip. Please support your driver in disposing of your rubbish in the bins provided.
Your bus has the latest draft-free air conditioning systems with powerful active particle filters, the air in the passenger compartment is exchanged every 60 seconds. OZONOS air cleaners are also available on request, these eliminate 99% of pathogens (bacteria, viruses, germs, etc.) in the air and 92% on surfaces.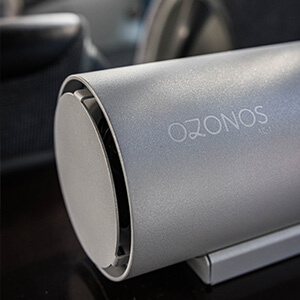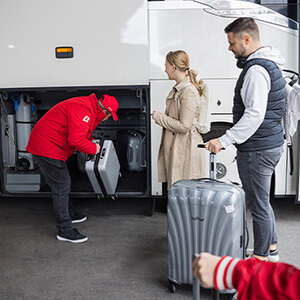 LUGGAGE LOADING
Your bus driver will of course be happy to load your luggage. It ensures that your suitcases and the entire load are safely stowed away. You are welcome to stow hand luggage in the overhead compartment above your seat or under your seat.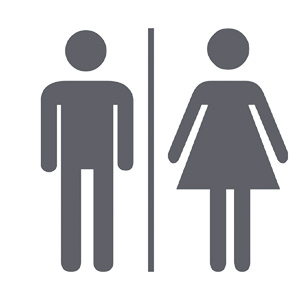 WASHROOM
The washroom in your coach is also available to you during the journey. Please be sure to exit the area as you would wish to find it.