Blaguss, the family-run company in the 3rd generation, is a proven expert in passenger transport and tourism in Austria and Eastern Europe. Our services range from the well-known rental of coaches, day and multi-day packages for schools, organized day trips and excursions for groups and clubs, various transfers and shuttles, implementation of national and international scheduled services, transports for people with special needs, logistics solutions for large Events through to various additional services, such as catering services or transfers in luxury buses.
Our PRESIDENT buses meet the highest demands in terms of comfort, equipment and design. Passengers are impressed by club tables, special equipment such as galleys and lots of legroom. You are welcome to upgrade your reservation for a standard bus at an additional cost. Travel in business class.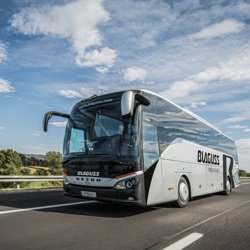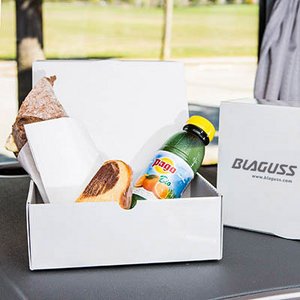 Catering, drinks and services
We are happy to provide you with lunch boxes, a selection of drinks or a supervised catering service by a hostess for your trip.
Fitness box
Delicacy box
Italy box
More information regarding our lunch boxes can be found here .
Logistics solutions for large events
As a reliable and experienced logistics partner for your major event, we ensure a sophisticated concept and reliable transfers.
Whether bus shuttles to trade fairs, congresses, bus shuttles to events, synchronized transports to production facilities, airport transfers for foreign business partners or business customers, our Blaguss bus fleet is at your service!
Thanks to our large fleet of vehicles, our competent employees and our many years of experience, BLAGUSS has the perfect logistical solution for every event, no matter how large!

At major events and congresses, things could quickly get a bit chaotic. To ensure that everyone is in the right bus on time, an overview and sophisticated planning are required. But professional dispatching (logistical deployment planning) is also required for conferences and meetings with different goals and an intensive schedule.
We determine the bus requirements, plan the travel times and routes, take care of the boarding points and the timely collection of your customers so that they arrive on time at the desired destination. Of course, on-site logistics support is also included so that your guests arrive relaxed and in a good mood.
BLAGUSS dispatching is even more:
Bus allocation: Each of your guests is brought to the right bus by the BLAGUSS team.
Lists of names: are created and carefully checked by BLAGUSS.
Handling: The BLAGUSS team keeps an eye on departure times so that your schedule is met.
If you wish, you can welcome your guests on board with a welcome drink or you can also take advantage of our catering service!
Travel for the physically challenged
Our "Rolli buses" are barrier-free and ideally suited for the transport of physically impaired passengers in wheelchairs. A lifting platform enables comfortable entry and exit. Special safety devices ensure that wheelchairs are optimally secured while driving.
Up to 10 wheelchair users and 27 people can be transported together per Rolli-Bus. These buses are ideal for trips by social institutions, senior groups, etc.
Please inform yourself in good time about the availability of these buses - they are very popular and there is always a high demand!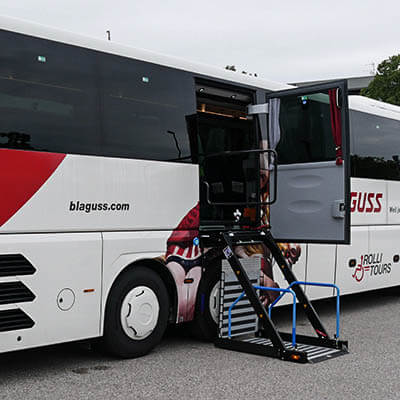 Bus branding and advertising space
Our comfort and luxury coaches are on the road in urban areas, the surrounding area as well as throughout Austria and Europe. Use the coach as a "rolling advertising space", reach millions of end users with your advertising message or set regional priorities.
Our coaches have a wide variety of advertising spaces at smart prices. If you are interested, please contact office@blaguss.com.
CONTACT
We are happy to be available for you 24/7.